Persoonlijke "down" verhalen 4
In deze rubriek komen verhalen voorbij over het accepteren van je kindje met het downsyndroom, over de moeilijke keuze die je misschien heb moeten maken, maar ook de verhalen over het dagelijks leven van deze kindjes en hun ouders. Ik wil laten zien dat het niet veel anders is dan een ander kindje opvoeden, alleen dat dit wat meer zorg en aandacht nodig heeft. In sommige gevallen zal het misschien wel anders gaan dan een "normaal" gezin. Maar wat is nou "normaal"!!!
Wil jij hieraan meewerken mail mij dan op: blog@day-dreamer.nl, Het kan anoniem als je dat wilt.
---
Onze Jetse werd 6 weken te vroeg geboren. Mijn vliezen bleken al een week lang gebroken, ik weet dit aan mijn blaasontsteking. Wij wonen op een eiland dus de helikopter werd gebeld en wij vlogen naar het ziekenhuis waar de volgende ochtend, door de weeën-remmers heen onze Jetse werd geboren. Hij bleek het syndroom van down te hebben. We wisten dit niet, ikzelf ben jong, gezond, en het kwam niet in onze families voor dus we hebben er nooit bij stilgestaan en alle echo's zagen er tiptop uit. Voor ons had het overigens niet uitgemaakt als we het wel geweten hadden, hij was er bij ons hoe dan ook geweest. Mijn partner en ik zijn erg nuchter en we waren ook meteen verliefd op dit kleine mannetje. Hij deed het super, zijn gezondheid was top, borstvoeding ging uitstekend en was lekker levendig. We moesten alleen 5 weken blijven omdat hij nog zo klein was en te vroeg kwam kijken op deze wereld, hij de voedingen nog niet helemaal zelf kon drinken. Hij viel op de helft alweer in slaap. Dus de rest ging via de sonde. De couveuse was hij vlot uit en eindelijk kwam het moment dat we hem mee mochten nemen naar huis. Wat een feest!
De periode is niet alleen maar geweldig geweest. We kregen ook vele kaarten van mensen die ons sterkte wensten (ja eçht), mensen die erg dramatisch deden of geschokt reageerden. Dat komt heel gek binnen omdat je zelf zo ontzettend blij met hem bent, hem accepteert hoe hij is, hij voor ons het geweldigste kindje op deze wereld was en is. Ook het verschil in de reacties van mijn ouders en die van mijn partner deden mij intens pijn. Mijn ouders waren er een dag eerder. Toen we het vertelden zeiden ze: "ow, is het zo? Nou verder alles goed met hem? Gelukkig!" en mijn vader schetste direct het beeld hoe het zomers een fantastische boel zou worden met al die kleinkinderen buiten bij elkaar, spelen met elkaar en wat een feest dat zou worden. En hoe welkom hij was bij ons allemaal! Dát gevoel, heerlijk en zo overeenkomstig met ons eigen gevoel. Jetse hoorde er bij, vanaf het moment dat hij erbij is gekomen, meer dan welkom! Mijn schoonouders reageerden geschokt, handen voor hun mond en tranen in hun ogen en zeiden een poos niks. Ik weet natuurlijk dat een ieder anders reageert, maar ik heb er wel een zere plek van in mijn hart gekregen. Het is alsof het dierbaarste wat je hebt wordt afgekeurd. Dat prachtige kleine hummeltje waar je zó zielsgelukkig mee bent, wekt tranen en verdriet op. Ze hadden hem anders voorgesteld. Hij is niet zoals verwacht en maakt hen verdrietig… Dat heeft mij het meeste pijn gedaan. Ik heb er lang last van gehad en kon het later ook slecht verdragen als ze hem in haar armen had en zei dat hij zo'n prachtig mannetje is en zo mooi, lief en leuk… Ik had zó graag gehad dat ze dat vanaf de eerste momenten had kunnen zeggen…
Nu zijn we bijna 2 jaar verder, is er een broertje of zusje op komst en ontwikkeld Jetse zich fantastisch. Waar mensen het 'altijd' hebben over een extra zorg of extra belasting of iets ervaar ik dat totaal niet zo. Dat zal wellicht ook per kind verschillen. Maar óók per kind zonder down. Tot nu toe ga ik één keer per maand naar logopedie en één keer per maand naar de fysio. En heel af en toe voor gebruikelijk controle naar de kinderarts. Poeh, poeh, wat een belasting. Niet echt. Zorgen? Heb ik eigenlijk niet. Hoewel, ja dat hij niet van de dingen afvalt waar hij opklimt, dat hij niet zijn vingertjes tussen de deuren krijgt omdat hij die weer open peutert, of hij geen krab krijgt van de kat waar hij weer achteraan zit te vangen, of zijn hoofdje stoot aan de punt van de tafel als hij zelf oefent met losstaan. Maar…. dié zorg heeft mijn zus ook met haar tweeling van dezelfde leeftijd die geen chromosoom meer hebben. Of hij wel gaat praten? Of hij wel gaat lopen, gaat fietsen, naar school kan? Ja hoor, heb ik helemaal geen zorg over. Je groeit zo met hem mee en je past je vanzelf aan als dat moet. Hij is het geweldigste in ons leven en dat gevoel zal elke ouder wel kennen, het is niet in getallen uit te drukken hoeveel we van hem houden. Ook, als afsluiter, ben ik er vol van overtuigd dat hij niet beter terecht had kunnen komen. Hij mag bij ons zijn wie hij is en we zullen hem ten alle tijden (onder)steunen en altijd met heel ons hart van hem houden. Hij is te gek!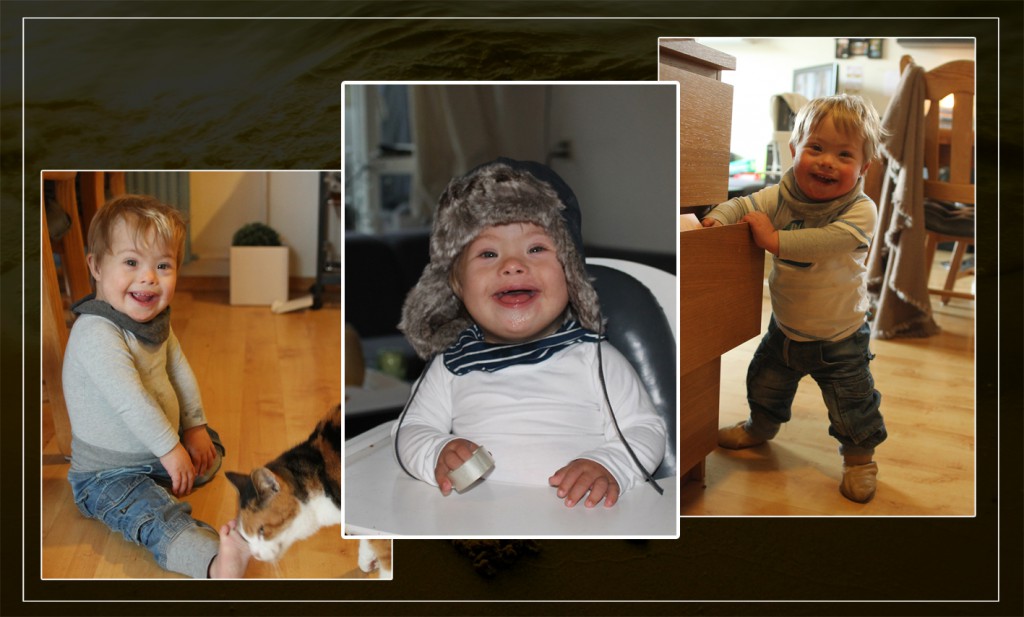 Comments
comments