Take a look at my life 30
Een week van veel rust momenten, denken aan mezelf en niemand die me verteld wat ik wel of niet moet doen.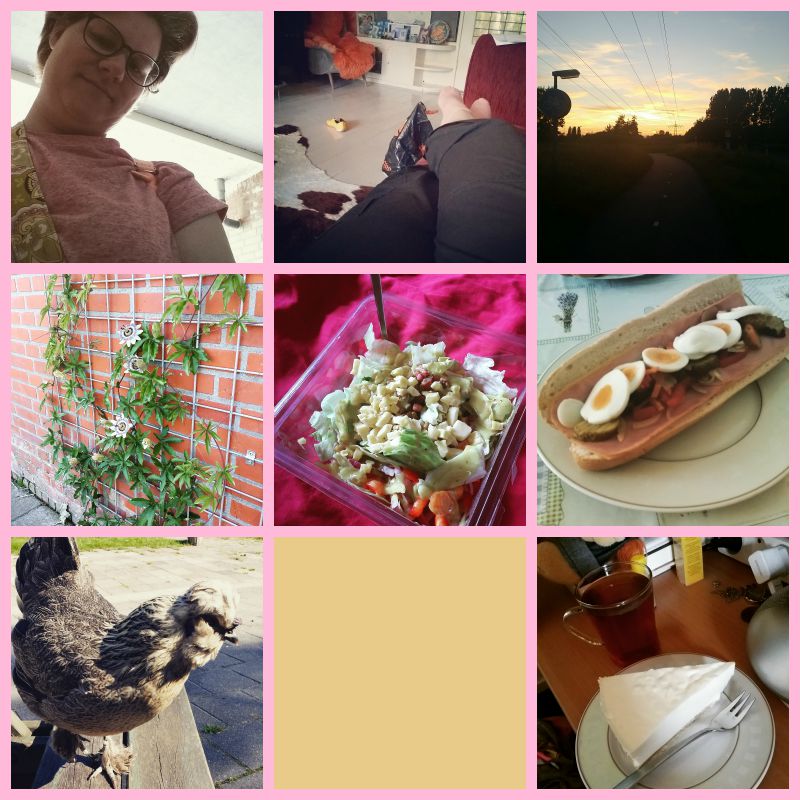 *Maandag ik ben zo,n drie keer in de week bij Ohanahome te vinden. Ik kom daar zo tot rust. Maar er komt daar ook veel ellende los. Vandaag heb ik de hele middag aan tafel zitten kleuren. Ik ging me uiteindelijk helemaal afzonderen met muziek aan. Voelde me zo niet fijn. Dat werd natuurlijk aangevoeld door Annelies maar liet me toch mijn gang gaan. Ze laat het aan mij over als ik iets nodig blijk te hebben. Maar dat is zo moeilijk aan te geven. Terwijl ze in de tuin zat met anderen, stuurde ik haar een berichtje. Zo zijn we even aan het chatten geweest. Maar uiteindelijk hebben we even samen een plekje in de tuin gezocht om te praten. Daarna voelde ik me weer wat beter. Dit is dus de reden waarom ik graag daar ben in plaats van thuis. Thuis zit ik veel alleen, en dan kom ik er niet meer uit. Daar kan je altijd iemand even opzoeken om te praten, huilen of wat je ook nodig hebt.
*Dinsdag op naar een dagje Ohanahome, lekker relaxen. Ik was zo moe dat ik gewoon alleen maar een hele tijd op de bank heb gelegen. Heb ook wel gezellig gekletst daar. In de avond weer op de fiets naar huis. Werd al aardig donker, dus een mooi plaatje geschoten voordat ik thuis was.
*Woensdag naar de kinderboerderij. Heb daar weer even de ezel weide schoon gemaakt. Daarna had ik ineens zin om onkruid tussen de tegels weg te halen op het plein. Nou dat heb ik geweten. Heb een begin gemaakt. Zat ik daar in de felle zon blaren te kweken op me handen. Maar werd er zo rustig van. De rest van de dag was het NEE tegen alles en iedereen. Oke bijna iedereen. Want Annelies kan ik niet negeren op de chat. En dat wilde ik ook niet. Verder was ik niet thuis voor anderen. Veel rust gehad en geslapen.
*Donderdag ook vandaag een dagje NEE, lekker even helemaal niks. Mijn bed en series. Veel slapen en rust pakken. Dit had ik echt gewoon even nodig. Een heerlijke gezonde salade gegeten. Dus even helemaal aan mezelf gedacht vandaag.
*Vrijdag had een vreselijke nacht met pijn op me borst. In de ochtend heb ik alles eruit gespuugd, daarna toch nog even een uurtje me bed in gegaan. Om 10.00 moest mijn man me wakker maken omdat ik naar de yoga wilde. Snel heb ik me aangekleed een banaan gegeten en weg was ik. Op de fiets naar de sportschool. Was het slim om dat te doen, hmm ja heb genoten van de yoga les. Ondanks ik me daarvoor zo slecht voelde. Na de les richting Ohanahome waar ik met mijn vriendin Hennie had afgesproken. Die woont daar tijdelijk in. Een tijdje zitten kletsen, toen ik merkte dat ik wel heel moe was. Ben toen tijd voor mezelf gaan nemen, wat zij ook helemaal geen probleem vond. Heb de rest van de dag op de bank gehangen met "Teen wolf" te kijken. S,avonds nog even bij het vuur gezeten. Toen Annelies en haar mannetje thuis kwamen nog even wat zooi uit de auto naar binnen gehaald. Ze zijn al even bezig met een verhuizing van haar mannetje. Maar is nu zo,n beetje klaar. Nog even bij het vuur zitten kletsen, toen het wel erg donker begon te worden. Ben toen naar huis gegaan.
*Zaterdag de week boodschappen gedaan met Bert. Daarna een heerlijk stokbroodje gegeten thuis.
*Zondag ik had woensdag foto,s gemaakt van een kip die maar op het bankje bleef staan. Nu bedacht ik me ineens wel leuk voor instagram en zette hem erop. Mijn muis van me laptop doet al weken vreemd, dus heb ik een nieuwe gekocht. Ik weer blij want hoef ik me niet meer te ergeren eraan. Daarna zijn we nog even langs Daan gegaan. Thuis een lekker stukje citroen kwarktaart gegeten.
Comments
comments