Take a look at my life… week 26
Zo weer een week voorbij, wat vliegen ze ineens om. Voorheen gingen mijn dagen nooit zo snel maar nu met een kleine in huis kom ik gewoon tijd te kort. Daan is inmiddels al 6 weken oud, echt ongelooflijk. En van de week wilde we hem zijn nekspieren laten oefenen, maar meneertje had hele andere plannen hij wilde gewoon proberen zich van zijn buik naar rug te draaien. Bizar al zo vroeg dat al te gaan proberen.
Lees mee wat we nog meer beleefd hebben…
Maandag 23 juni 2014
Om 11.30 stond de fysio bij ons op de stoep voor Daan. Even een kennismaking gesprek, en heeft wat uitgelegd over houdingen. Als eerste gaan we het overstrekken aanpakken, wat hij heel veel doet. Ik vind dat echt eng dat hij dat doet. Ligt hij lekker in me armen en ineens overtrekt hij zich, en hij is me toch sterk hij duwt me hele handen dan van hem weg. Ongelooflijk gewoon hoeveel kracht er in zo,n klein mannetje zit. Best raar als je bedenkt dat zijn spierspanning juist lager ligt dan bij een kindje zonder "down"
In de middag om 14.00 kwam er iemand langs van het consultatie bureau. Ook even kennismaken en natuurlijk naar Daan kijken. In het begin was Daan steeds maar een heel rustig jongetje, als hij huilde was het maar heel even en dan was hij alweer stil. Nu gaat hij wat vaker huilen, nog niet extreem veel hoor. Maar de hele tijd toen ze hier was, was hij maar aan het jengelen. Best lastig dan hoor om je te concentreren op het gesprek. Ze heeft ook nog even naar zijn billen gekeken, omdat ik aangaf dat ze wat rood waren. Ze wilde even weten of het gewone uitslag was of schimmel. Gelukkig maar gewone uitslag. Daar kreeg ik verder nog tips voor.
Later in de middag even een kaartje op de post gedaan, aangezien mijn schoonzusje de volgende dag jarig is. En die moet je natuurlijk niet vergeten.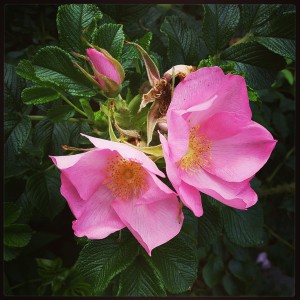 Ik loop zo vaak langs deze bloemen en dacht maar even een kiekje maken van ze. Lekker fleurig plaatje geworden.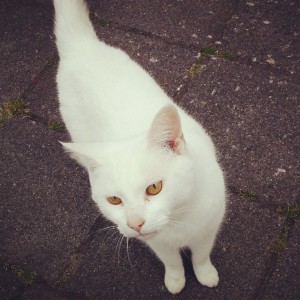 Deze kat kom ik altijd in de buurt van ons tegen, en heb hem al vaker op de foto gezet. Hij stond er nu ook zo mooi voor dus kon het niet laten.
Dinsdag 24 juni 2014
Drukke dag. 2 afspraken in het ziekenhuis staan. Ben samen met mijn schoonmoeder daarheen gegaan. Met de bus. Als eerste had Daan een echoscopie staan voor zijn heupjes. Veelte vroeg eigenlijk, ze hadden gezegd pas met een maand of 3. En zeiden dus al misschien moet het dan nog eens over. Maar alles was goed, en is blijkbaar niet nodig. Daarna naar de gipskamer, gips mocht er weer af. Dus lekker Daan in bad doen. Dat is echt genieten, helaas is het daar zo laag dat mama pijn in haar rug krijgt. Maar toch is het fijn hem in bad te kunnen doen. Lekker aan ze kleine teentjes friemelen. Oja en natuurlijk daarvoor nog even gewogen. De teller staat op 3100.
Woensdag 25 juni 2014
Even "Me Time" ben de stad in geweest in me uppie en Daan bij papa thuis gelaten. Dat was best wel moeilijk, en nee niet omdat ik me man niet vertrouw met hem alleen. Maar denk dat elke moeder dat wel begrijpt je eerste keer dat je alleen weg gaat zonder je kindje.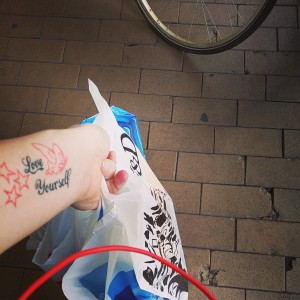 Heb een hoop geshopt. Moest een cadeau kopen voor me nichtje die de 30ste jarig is. Kleertjes gekocht voor Daan, en voor mezelf een boek "Oei ik groei" En het belangrijkste waar ik voor ging was naar de brillenwinkel. Ik wordt helemaal stapel gek van mijn bril. Al van het moment dat ik begon met afvallen. Toen zat ik al zowat elke week daar om me bril bij te laten stellen. En nu besloot ik een nieuwe bril uit te zoeken. Heb iets moois gevonden, maar moet eerst een afspraak maken om me ogen te laten testen. Dat viel even tegen want weet nog niet wanneer ik daar tijd voor heb. Ben ik zo lang in die winkel geweest vergeet ik alsnog even me bril bij te laten stellen. Nu zakt hij nog altijd af… grrrr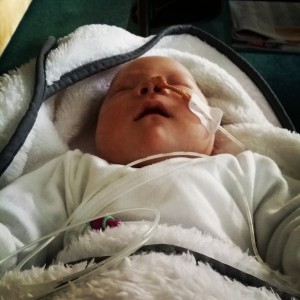 Af en toe moet je kindje tevreden houden en dan neem je hem lekker op schoot. Kijk eens hoe lief hij ligt te slapen.
Donderdag 26 juni 2014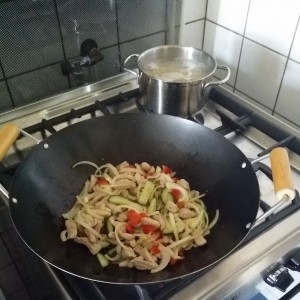 Een heerlijke makkelijke gezonde maaltijd maken. Ben gek op wok maaltijden.
Vrijdag 27 juni 2014

Ik blijf mijn kindje spammen, hihi sorry hoor maar tis ook zo,n schatje.
In de avond kregen we mijn schoonouders en zwanger op bezoek. Bert wilde toch nog even zijn verjaardag vieren. (jarig op 07-06) Op het moment dat er werd aangebeld wilde ik net Daan gaan wassen omdat hij zijn voeding eruit had gespuugd. Dus hem even lekker opfrissen voordat hij met opa op de foto ging. En daarna lekker terug naar bed.
Zaterdag 28 juni 2014
Een heerlijke rustdag, en Daan heeft het begrepen heeft de hele dag mee gedaan.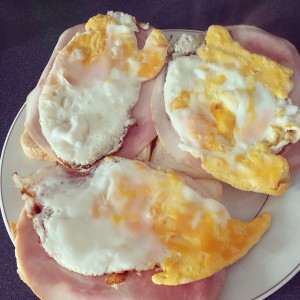 Tussen de middag hadden we lekker brood met ei en ham gegeten.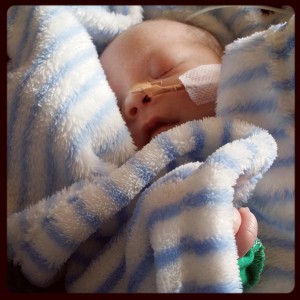 In de avond toen koste me dat een hoop energie om hem tevreden te houden. Helaas heb ik ook al een hele week enorm veel pijn in me been. En waarvan geen idee, maar dat vreet ook energie. Maar uiteindelijk is hij na zijn 23.00 fles lekker in slaap gevallen. En kon mama ook heerlijk gaan slapen. Voor die tijd probeerde ik wat tv te kijken op bed, maar veel kon ik er niet van volgen.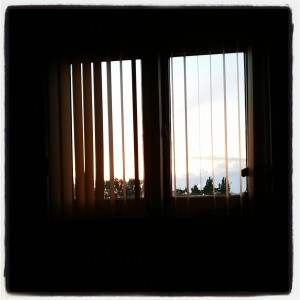 Zondag 29 juni 2014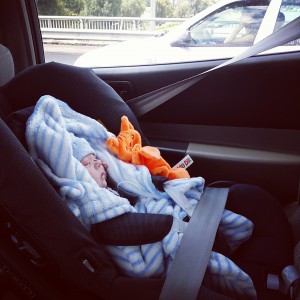 Het was nog even de vraag of we vandaag wel naar de verjaardag van Evi gingen. Evi wilde heel graag haar kleine neefje voor het eerst zien. Maar de avond ervoor kregen we te horen dat ze wat verkouden was. En we moeten toch uitkijken met Daan vanwege zijn hartafwijking. Hij mag eigenlijk niet in contact komen met verkouden mensen. In de ochtend kregen we te horen dat ze eigenlijk niet meer verkouden was alleen wat na hoesten. Dus we besloten erheen te gaan. Het was later geworden dan we verwacht hadden, en zo leer je maar weer voortaan meer voeding mee nemen. Maar het geluk hebben we een rustig mannetje en een uur later zijn voeding was geen ramp voor hem.
Zelf waren we echt bekaf toen we thuis waren. We hebben ook een hoop spullen mee gekregen voor Daan. Alvast speelgoed voor als hij wat ouder is, en een campingbedje. Dat alles staat nu in de woonkamer en moet nog opgeruimd worden hihi.
Zo en hoe is jullie week geweest?
Comments
comments