Update: Hoe gaat het nu met Daan
Op 1 dag na is Daan vandaag 7 weken oud, wat gaat dat snel zeg. Het ene moment lig je nog zwanger in het ziekenhuis en het volgende moment is je zoon alweer 7 weken oud. We hebben echt al zoveel afspraken gehad voor hem. De meeste afspraken waren in het ziekenhuis.
Klompvoetjes

Al heel snel werden de beentjes van Daan in het gips gezet, inmiddels zit de 5e week erop. 1 juli had ik weer een nieuwe afspraak staan voor hem. Zijn beide agilis pezen zijn met een naald door gehaald. Dat was echt wel even heftig, eerst had ik er niet zo,n moeite mee tot dat Daan echt zo verdrietig was en maar bleef huilen. Toen rolde er bij mij ook even wat traantjes over me wangen. Nu zit er voor de laatste 3 weken gips omheen. Na deze drie weken is de achillespees weer dan op normale dikte en sterkte maar nu op de juiste lengte aangegroeid, gaat het gips eraf en is nieuw gips niet meer nodig. Dan is het tijd voor de spalken. Er worden schoentjes aangemeten voor de Ponseti-spalk. Dit is een soort ijzeren strip met aan beide uiteinden een schoentje. Deze blijven aan tot ongeveer zijn 4e jaar. Op het moment dat hij leert lopen zijn ze niet meer nodig. Ze moeten 23 uur per dag aanblijven.
Het gaat goed met de behandeling, het was na de eerste week al een groot verschil. Komt dus ook helemaal goed met zijn mooie voetjes.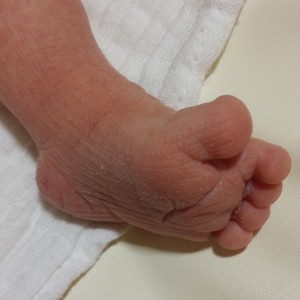 Hartafwijking

Onze zoon heeft een AVSD (atrioventriculaire septum) is een gat in het tussenschot tussen de kamers en de boezems. Het atrioventriculaire septum is het gebied waar het tussenschot (septum) tussen de boezems en de kamers samenkomt. Daan heeft 2 gaten en maar 1 hartklep. De cardioloog was goed te spreken over hem. Het is misschien mogelijk dat er 1 gat dicht groeit of bijna, gebeurd dat hoeft hij pas tegen zijn eerste jaar geopereerd te worden. Groeit het niet dicht dan tussen de 3 en 6 maanden. Een operatie mag pas plaats vinden als hij tussen de 4 en 6 kilo is. Maar we hoeven ons nu dus nog geen zorgen te maken. 
Helaas zitten er nu wel nadelen aan deze afwijking aangezien alles wat moeizamer gaat dan bij een kindje zonder dit probleem. Bijvoorbeeld het drinken uit zijn fles is een hele opgave voor hem. En moet ook veel rust tijdens zijn fles nemen. Ook als hij slaapt mag ik hem niet wakker maken voor zijn fles en moet het gewoon via de sonde gedaan worden. Daarom heeft hij dus nog altijd dat slangetje in zijn neus. Hij drinkt dus zeker niet al zijn flessen leeg, maar hij doet het best goed hoor.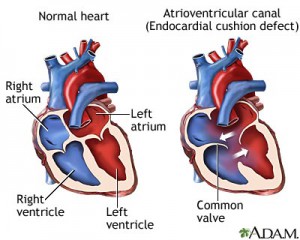 Logopedie
Er is hier al iemand voor geweest bij ons thuis Ze heeft meegekeken met een voeding. Om te zien of alles goed ging. En ze vond dat hij heel goed drinkt en dat ik heel goed op hem let wanneer hij rust nodig heeft. Maar moet niet steeds de speen eruit halen maar als hij rust nodig heeft de fles omlaag houden zodat er niks in zijn mond stroomt. En zodra hij weer aangeeft dat hij genoeg rust heeft gehad, fles omhoog. Af en toe haal ik de speen er wel uit om hem een boertje te laten doen. Maar niet te vaak, want dan verliest hij zijn honger gevoel en krijg ik hem er niet meer in. Ook mag ik hem niet wakker maken voor zijn fles. En dus als hij doorslaapt (wat nog weleens gebeurd) dan krijgt hij het via de sonde. En ook niet elke fles drinkt hij leeg, en gaat de rest ook door de sonde naar binnen. Dus logopedie ziet nog geen verdere problemen zodat ze langs hoeft te komen. Maar kan altijd bellen als het nodig is.
Fysiotherapie

Ook de fysiotherapeut is langs geweest. En heeft me uitgelegd wat ze een beetje doen. Ik vertelde al dat hij heel erg overstrekt, en dat ik dat best eng vind. Hij is zo sterk dat als ik hem vast heb dat hij me handen gewoon weg duwt met zijn lichaampje. Dat gaan we dus als eerste aanpakken om te laten verminderen. Vrijdag komt ze weer, nog even voordat ze op vakantie gaat voor 4 weken. Ben zelf al even aan het oefenen geweest om hem op zijn buik te leggen. We wilde dat hij zijn nekspieren ging gebruiken. Ja dat doet hij wel, maar wilde eigenlijk al van z,n buik naar rug draaien. Bizar vroeg al. Ook ging ze contact opnemen met een collega die me gaat helpen met het dragen van Daan in me draagdoek. Aangezien ik merkte dat hij er niet prettig in ligt, maar het wel goed voor hem is vanwege het overstrekken.
Downsyndroom
Eerlijk gezegd merk ik daar nog vrij weinig van, ook omdat er zoveel andere dingen spelen. Ja oke zijn slappere spieren spelen wel een grote rol, maar toch is het raar dat hij dan zo sterk is. Pas vanaf zijn eerste verjaardag zal hij naar de downpoli gaan. Dat is nu nog niet nodig. De downpoli is er om hem gelijk van top tot teen na te kijken. Dat je dus niet naar allemaal verschillende artsen hoef te gaan. Dat wordt daar op de poli gedaan, dat je alle artsen op 1 dag of in 2 dagdelen ziet. Toen hij net geboren was dacht ik echt hebben ze geen vergissen gemaakt met de diagnose want zag niks anders aan hem. Tot een verpleegster zei, jawel hoor kijk maar eens goed naar zijn oogjes. Dat deed ik en ja daar kon je wel aan zien dat ze wat anders staan dan bij kindjes zonder down. Maar eerlijk gezegd hebben we gewoon een heel knap jongetje en vind ik zijn ogen heel mooi. Zijn oortjes zijn ook nog een beetje opgekruld en dat vind ik super schattig staan bij hem.
Eigenlijk gaat het gewoon heel goed met Daan. Hij slaapt veel en groeit dus ook goed. Hij weegt momenteel 3.220 kg. Slaapt s,nachts ook heerlijk door, en in het algemeen vraagt hij steeds rond 05.00 naar zijn fles. Dat is dus netjes, mag op zich wel iets later voor me. Maar ga er met alle liefde voor hem uit. Ben allang blij dat ik er niet s,nachts uit hoef.
Als jullie nog iets willen weten over Daan, mag je dat altijd vragen hoor.
Comments
comments