Zwangerschap dagboek ~Week 28~
Het gaat nu wel snel de zwangerschap merk ik. Alweer 29 weken zwanger, dus nog 11 weken te gaan. Dat houd in dat er nu rond deze periode een datum wordt gepland voor de keizersnede. Ook kregen we een geboorteplan mee om alle wensen en dingen die we juist niet willen kunnen opschrijven. Maar ik had verwacht dit in het gesprek te bespreken met de verpleegkundige. Dit was mij verteld, maar dat was dus helemaal niet zo. Dan moet ik dat maandag maar even doen bij mijn gynaecoloog. Want ik heb zeker duidelijke wensen hierin. Er moeten zeker dingen anders dan de eerste keer. Wel natuurlijk als dat mogelijk is.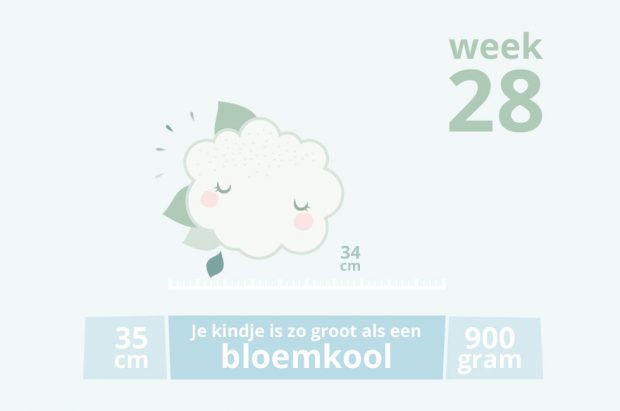 Uitgebreide echo
Omdat er tijdens de 20 weken echo natuurlijk gezien is dat dit kindje klompvoetjes heeft, kom je automatische in de medische molen. Dat houd in ook een extra echo rond de 30 weken. En die hebben we van de week dus ook gehad. Wat een heerlijk mens die deze afnam, ik had haar hiervoor al een keertje gezien op mijn twee wekelijkse controle. Ze ging weer alles af zoals de 20 weken echo. Alles weer opmeten, en vooral de beentjes waren van belang om te zien of deze goed groeide en dus ook niet schreef zouden groeien. Maar alles was prima in orde met onze kleine. Ook het hartje werd helemaal goedgekeurd, waar we natuurlijk enorm blij mee zijn. Dit is toch best wel een spannend puntje hoor. Ze vroeg me of ik genoeg leven voelde, waar ik op antwoorden JA het is wel erg druk in mijn buik. Ze begon te lachen en zei "dit horen wij nou heel graag" Even later voelde ze wat ik bedoelde met druk, ze voelde de kleine flink door me buik heen. En zei "ik snap nu wat je bedoeld dat het af en toe wel erg druk is in je buik"
Er moest ook weer even op het DOK mijn urine gecontroleerd te worden en mijn bloeddruk. Ze blijven dit controleren vanwege zwangerschapsvergiftiging omdat ik nog altijd klaag over extreme hoofdpijn. Toen mijn bloeddruk in orde was mocht ik gaan, de uitslag van de urine werd later doorgebeld. Natuurlijk gewoon weer niets aan de hand, wat ik wel had verwacht.
Hierna hadden we ook nog een "nutteloos" gesprek bij de verpleegkundige. Ik dacht echt dat we de keizersnede gingen doorspreken, maar dit was dus niet de bedoeling van het gesprek. Ik vond het dan ook echt tijd verspilling.
Dik dikker dikst
Wat een enorm verschil met mijn zwangerschap van Daan. Want aan het eind van mijn zwangerschap was ik nog niet eens zo dik als dat ik nu ben. Ja echt dik mag ik natuurlijk zeggen. Een mooie zwangere buik is het. Alleen begint het wel erg in de weg te zitten, zeker met schoenen aandoen. En ik hoop dat ik de laatste 11 weken nog kan uit zingen met de kleding die ik heb. Want alles begint nu wel erg krap te zitten. Het liefst geef ik geen geld uit voor nieuwe kleding. Maar als het moet dan kan het echt niet anders. Ik ben best trots op me buik, Ja met kleding aan dan…
Hormonen
Wat een ellende, ik had er nog niet heel erg veel van gemerkt. Maar vandaag was ik geloof niet echt te genieten. Het is zeker een combinatie van een week lang klussen/schoonmaken in onze nieuwe huis. Ik ben het gewoon echt spuug en spuug zat. En juist net vandaag was ik niet alleen met mijn partner in het huis. Ik kon echt niet veel hebben, voelde me zo prikkelbaar. Alles frustreerde mij en daarom ben ik s,middags het huis maar uit gevlucht. Ben maar lekker een wandeling alleen gaan maken, dat deed me dan wel weer goed. Het was prachtig weer zodat ik zelfs even buiten van de omgeving genoten heb. Uiteindelijk ben ik bij de kapper beland om lekker weer een kort koppie ervan te laten maken. Dus ja ik heb momenteel echt even last van mijn hormonen, eigenlijk wil je dit soort dingen niet toegeven. En schaam me eigenlijk voor mijn gedrag hierdoor. Maar kon gewoon echt niets hebben. Hopelijk is het morgen weer wat minder. Kan gelukkig wel even mijn rust pakken, want kan lekker thuis blijven.
Comments
comments